Boat Part for sale online (
Gadsden, Alabama
) – Category: Complete Outboard Engines
New Yamaha F70LA Long (20″) Shaft, Power Trim, Four Stroke, Manf. Date 07/2021
Brand: Yamaha
Manufacturer Part Number: F70LA
Engine(HP): 70
Stroke: 4-Stroke
Warranty: 3 Year
Custom Bundle:
Bundle Description:
Modified Item:
Modification Description:
Non-Domestic Product:
Applicable Regions:
California Prop 65 Warning:
Country/Region of Manufacture:
Core Charge: $15.00
CLICK HERE TO VIEW THE PRICE
MORE DETAILS ON THIS BOAT PART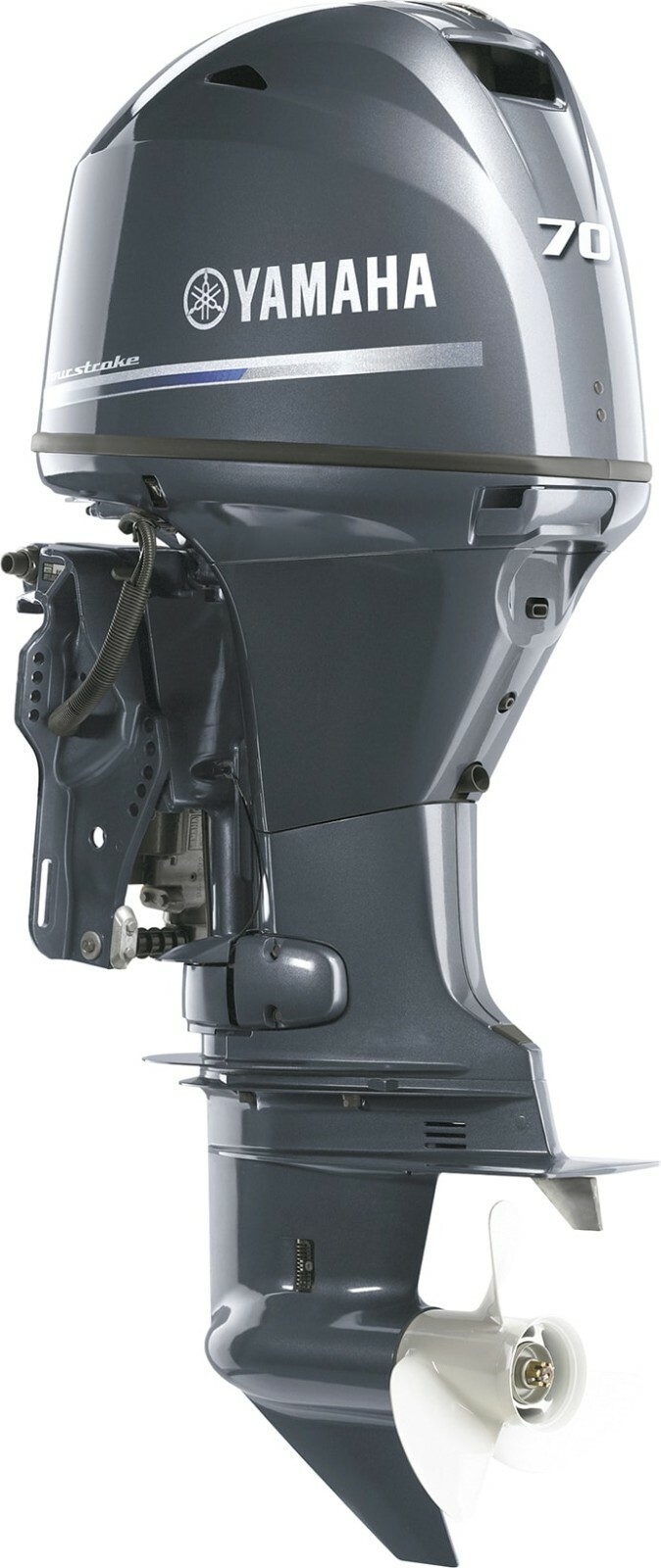 Do you want to see more pictures of this boat part? Click Here
This is a NEW 4 STROKE Yamaha 70 HP Outboard Motor. Manufactured 07/2021. This Motor is for boats with a Long (20″) Transom. It comes with a 3 YEAR FACTORY WARRANTY. Stock Number 6CJL-1103059 BManufacturers Suggested Retail Price is $10735.00Included with this Yamaha Outboard is an owner's manual, fuel line with primer bulb, battery cable, prop attaching hardware, mounting bolts, and lock nuts. NOT INCLUDED are the remote controls, harness, steering system, propeller, and fuel tank. These items can be purchased through any Yamaha Marine Dealership.Yamaha Outboards exceeding 25 horsepower do not include a propeller.Any authorized dealership can set up a warranty on new motor. The "pre=delivery" inspection is not covered in the price of the motor or under warranty. Inspections usually take one to two hours depending. This service can be provided to you through our service department if you wish. It can be done by any Yamaha Certified Technician; it is not and cannot be done prior to shipping. PDI can only be done once the motor is installed on the boat.Engine Typei4Displacement1.0LBore x Stroke65 x 75mm (2.56 x 2.95 in.)Prop Shaft Horsepower70hp at 5800 rpmFull Throttle RPM Range5300 ~ 6300 rpmAlternator Output at W.O.T.17 AmpCompression Ratio9.4:1Fuel Induction SystemEFIWeight †114 kg (253 lbs) Shipping Weight 360 lbsRecommended FuelOctane 87Recommended Engine OilYamalube® 4M (See owner's manual)Recommended Fuel FiltrationYamaha 10-Micron Fuel/Water Separating Filter (external)C.A.R.B. Rating3-StarExhaustThrough PropellerIntake16IgnitionTCI MicrocomputerSpark PlugLKR7EAlternator Output17 AmpStarting SystemElectricLubricationWet SumpEngine Oil Capacity2.1/1.9Recommended CoolingThermostatic ControlEthanol Blend Limit10% MaximumGear Ratio2.33:1Gear ShiftForward, Neutral, ReverseShaft Length20″Degree of Tilt65°Degree of Trim-4° through +16°Dry Weight114 kg (252 lbs) Shipping Weight 360 lbsMounting CentersN/ASteering Angle (maximum)40° from center, either directionWarrantyLimited 3-year Pleasure, 3-year Government, 1-Year Commercial PLEASE READFlat rate shipping applies to US addresses only. Outboard Motors regardless of size, make, or model cannot be ship outside of the Continental United States without special consideration and / or price quotes from a freight forwarding agency. This means if it involves transport by plane or boat an additional charge will be added to the freight. If you are receiving your purchase outside the U.S.A. you should wait to pay for your purchase until you have received an invoice from the seller where the freight has been properly adjusted.The U.S. has five permanently inhabited territories. The above restrictions apply to the following: Puerto Rico and the U.S. Virgin Islands in the Caribbean Sea, Guam and the Northern Mariana Islands in the North Pacific Ocean, and American Samoa in the South Pacific Ocean.These same restrictions also apply to Alaska and Hawaii. The least expensive way to ship freight is from business to business where both parties are accustomed to unloading from ground level by Fork Truck or a proper height Truck Ramp with an approved drive across Deck Plate. Trucking companies will furnish a lift gate service for an extra fee (most times $75.00 to $125.00) and also will deliver to a residence for an extra charge. (Usually around $200.00) These services can get expensive and must be requested by the shipping party. Limited Access Areas, such as: marinas, farms, campgrounds, parks, and other rural locations many times will be subject to extra charges. Even if you have a Legal Business License the commercial truckers may not recognize you as a Business. Most Trucking Companies will allow for consumer pick up at the destination terminal if it has been prearranged by the shipper. This is the best way not to be surprised by unforeseeable extra charges.